What:
Transportation History Ride
When:
June 8, 2015 @ 10:00 AM – 1:00 PM
2015-06-08T10:00:00-07:00
2015-06-08T13:00:00-07:00
Where:
Meet at McKinley Statue, Baker & Fell in the Panhandle Park

Contact:
Joel at Thinkwalks
415-505-8255
Thinkwalks presents an exploration ride:
Transportation History Ride
Golden Gate park is a canvass on which the city's ambitions were sketched.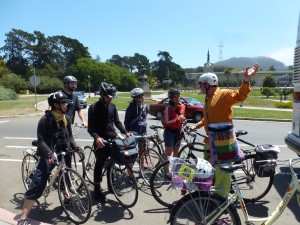 San Francisco was the first major city on the coast. We'll discover many firsts in the Park because it was where ideas were tested. The city's history exactly matches the 160 years of transportation revolutions. We'll see where a major railroad came right into the park, where the suspension bridge was first tried, where driver licenses were invented, why pedestrians were so feared, and we'll even learn about street sweeping. This ride will include great discussions between short stretches of riding.
Highlights: Brooklyn Bridge in SF, the Northwest Passage, building roads on sand dunes, echo tunnels, fog & wind, abandoned 12th-20th century castle, racetrack, garage fight, elephant ambulance, old photos, mini eiffel tower.
Come ride around a park which was created out of a transportation challenge: too much horse poop!
☆ RSVP required
↪ Rain or shine
↪ Bring your bike!
↪ Not vigorous exercise! You may get chilled if you forget your extra layers.
↪ End within a few blocks of where we started
↪ Maximum 15 people
Contact