Updated May 2017. If it's shown here now, it is still available. If you want a "Do the Wiggle" shirt or sweatshirt they have a few left at the Wiggle Bike Shop on Waller Street. Thanks for your support!
If you want our latest publications, the Seep City map poster and sampler atlas (as well as pre-orders for the book) are now available here.

Shipping for publications: $1 for the first of each item, no additional shipping charge for a second item of the same type. Please, if you want more than two of something, email me rather than ordering. Thanks!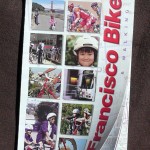 SF bike route map
Full-size folding map of San Francisco with shading to show hill grades. Has bike routes, the Wiggle highlighted, bike parking lots & bike shops.
$5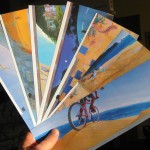 Duboce Bikeway mural cards
7 cards which together make an 84″ poster of the mural. Each card is 12″ x 4¼″ with a color image on front, tour of that mural section on back. Comes in clear (tree-based, non-plastic) resealable envelope.
$12 (if you can, please also donate for mural upkeep, below)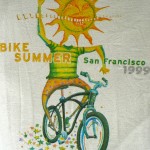 Bike Summer '99 shirt, short-sleeved
This design is a rare 1999 collector's item with art by Jim Swanson from the first Bike Summer festival in San Francisco that started it all. Digitally printed front full-shirt design. Will never be reprinted. High quality, 100% cotton by Hanes Beefy-T.
Your donation makes a difference in our work to educate the public about water, public art and urban exploration!